By McCall Macomber, Illinois Center for Transportation
Illinois will receive $1.4 billion to repair its bridges in President Biden's five-year, $27 billion Bridge Formula Program, which is designed to replace, repair and rehabilitate bridges across the nation.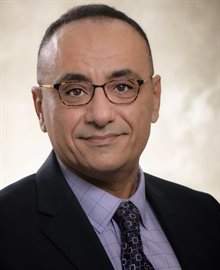 The program will supplement Gov. JB Pritzker's $45 billion "Rebuild Illinois," an ongoing six-year plan to improve the state's transportation infrastructure.
Key to both programs is a focus on not only rebuilding transportation infrastructure, but also constructing it to last longer.
Illinois Center for Transportation and Illinois Department of Transportation focus on just that in the joint project, "R27-197: Bond Characteristics and Experimental Behavior of Textured Epoxy-coated Rebars Used in Concrete Bridge Decks."
Bassem Andrawes, University of Illinois Urbana-Champaign CEE professor and Excellence Faculty Fellow, leads the effort to build longer-lasting bridges with Daniel Tobias, IDOT engineer of concrete, soils and metals, and Jayme Schiff, IDOT engineer of bridges and structures.
Their focus is on the coating of steel reinforcing bars ("rebars"), which are placed in concrete to strengthen bridges. If unprotected, rebars can experience excessive corrosion because of the infiltration of water and deicing salts through cracks in bridge decks.
Adding a smooth epoxy coating to rebars, a popular technique since the 1970s, significantly increases their resistance to corrosive materials, but also may generally lead to increased crack width in bridge decks.
Here the researchers investigate adding a roughened texture to the smooth epoxy coating, which increases friction as well as the bond between the concrete and bars.
"One of the issues with bridge decks is that they crack," Schiff said, "and the expectation with this textured reinforcement is it will have less cracking and also hold the cracks tighter, so that'll allow less chlorides to get into the bridge deck."
Their goal? Find the optimal level of texture or roughness to add to the coated rebars.
"It's like looking for just the right grit of sandpaper to sand your wood," Tobias said. "We wanted to know if a smoother 220 (grit) or a rougher 40 (grit) was the best, or somewhere in between."
To figure out the optimum texture, Andrawes isolated conditions bridge decks would experience in the field and re-created them in UIUC's Newmark Structural Engineering Laboratory.
Andrawes started with taking microscopic images of various textured rebars and examining their surface profiles.
He and his team then embedded the rebars in concrete cylinders to test the bond between the bar and concrete.
Key to the research were several large-scale tests, where the researchers tested the cracking produced from shrinkage after the concrete was cast as well as thermal movement and flexural behavior.
Andrawes' methods showed that cracks in the bridge were not as wide as those when using nontextured, coated rebars and the bridge deck was stiffer and had smaller deflections.
Ultimately, Andrawes' team verified the textured rebars improve bridge deck performance by about 33 percent.
"This is the first time that these bars are applied anywhere in the world," Andrawes said, "so IDOT is pushing the envelope of the application of epoxy-coated rebars."

The innovative technology is expected to have a nationwide impact, as many state agencies are searching for a way to reduce the number and severity of cracks in bridge decks.
"Several state DOTs are aware of Illinois' research on this topic and are eagerly awaiting results for their potential implementation," said Dan Brydl, Federal Highway Administration's Illinois Division bridge engineer and a member of the project's technical review panel.
"FHWA is very pleased with the results of this research," he added, "and this marketable innovation could very possibly lead to a new standard in bridge deck reinforcing steel coatings both regionally and nationally."
Drivers in Illinois can also expect to see an additional benefit: fewer traffic delays because of less time spent on closing roadway lanes for bridge maintenance and repair.
"Our goal here is to reduce future maintenance of bridge decks and hopefully reduce costs over the life of a bridge," Schiff said. "That's the long-term goal: to help save tax dollars."